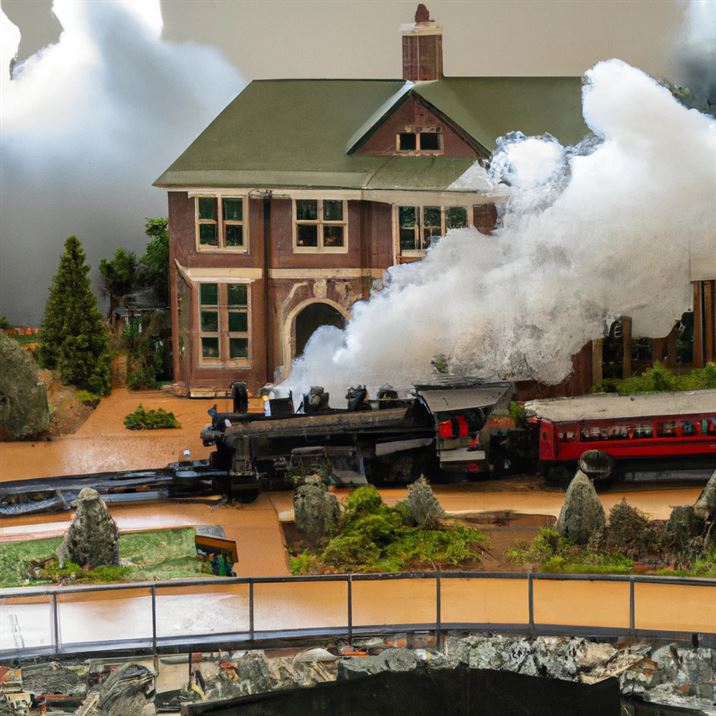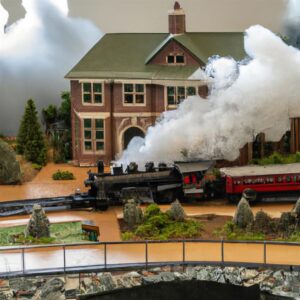 To purchase voltage/frequency converters for Lionel trains, click here:  Converters for Lionel Trains
I. Introduction to Lionel Trains
Lionel Trains are miniature electric train sets that were first created in 1901 by Joshua Lionel Cowen, who started the company with the idea of selling battery-powered toy trains as a novelty item. Over the years, Lionel Trains has become a world-renowned model train manufacturer, producing a wide range of model trains, accessories, and model structures.
The attention to detail and craftsmanship of Lionel trains have made them a favorite among hobbyists and model railroaders. The most common options for powering them are a transformer, battery, or AC to DC power source, depending on the vintage, style and quality of the train system.  Lionel trains also require regular maintenance, such as cleaning and troubleshooting, to ensure they are operating properly.
II. Types of Lionel Trains
A. Steam Locomotives
Steam Locomotives are quite popular. In the 19th and 20th centuries, steam locomotives were powered by burning coal or wood and were used to pull passenger and freight trains. Steam was the main power source until the introduction of diesel locomotives in the mid-20th century.
Today, replica steam locomotives are popular among hobbyists and model railroad enthusiasts. Lionel steam locomotives sometimes use proprietary smoke pellets or liquids to simulate the exhaust smoke.  With the right power source in place, Lionel Train steam locomotives can be operated with a variety of accessories and track layouts.
B. Diesel Locomotives
Diesel locomotives became popular in the early to mid-20th century. These were powered by burning diesel fuel in an engine that turned a generator, which powered a large electric motor to propel the locomotive.  This diesel-electric drive transmission method was the simplest way to get high torque at lower speeds, without a complex and sophisticated mechanical transmission.  Lionel Trains offers a variety of diesel locomotives in various scales.
C. Electric Locomotives
Electric locomotives utilize electricity alone for power.  The energy source is provided either through overhead tracks or the track itself.  Electric locomotives offer the highest efficiency (approaching 90%), lower pollution levels, and are more popular today than ever.  They are the sleek commuter trains which experience more frequent stops.
III. Powering Lionel Trains
A. Transformer
A transformer is one of the most common ways to power Lionel trains. Transformers are used to convert the 120V AC 60Hz US mains power to a lower voltage for powering the train and its accessories, usually 12-24V AC. Transformers are available in a variety of sizes and power ratings to suit the needs of the Lionel trains.  Many offer variable output, which affords speed control for the locomotives.
When utilizing Lionel trains outside the USA, it is important to keep in mind that transformers require both the proper voltage AND the proper frequency in order to correctly function.  If for example you try to power a Lionel train in England, you will need a KCC Scientific Voltage and Frequency Converter to get full function from the transformer.  Operating a 60Hz Lionel transformer at 50Hz can result in severe overheating or loss of power–or the need to drop the voltage to below 100V AC in order to preserve the transformer.  Unfortunately, operating at a lower voltage (e.g., 100V AC) to compensate for operating at 50Hz also compromises power and functionality of the train system.
See the KCC Scientific Thor model, which is ideal for many transformer-based Lionel train systems!
B. Battery
Battery power is another option for powering model trains. However keep in mind that nearly all O-gauge trains are AC powered.  Often less expensive and simpler starter systems are battery powered.  These are great for youngsters just getting started into model railroading.
IV. Maintenance and Troubleshooting
Cleaning and maintenance are important aspects of owning and operating Lionel trains. They require regular cleaning and maintenance to ensure they are operating properly. Cleaning (and treating) tracks–usually with non-polar substances–should be done on a regular basis, as dirt and debris can cause problems with the operation of the trains, motors and mechanisms.  It is important to make sure all parts are in good working order and that all connections are secure.  Many cities have regular "meets" where materials, supplies, and expertise can be found.  Also consider online resources or contact the manufacturer to assure success, especially when diagnosing and repairing motors or motor components.
Lionel Trains FAQ
1. What are Lionel Trains?
Answer: Lionel Trains are miniature electric train sets that were first created in 1901 by Joshua Lionel Cowen. They come in a variety of sizes, from small-scale trains to larger-scale O and G gauge models.
2. What are the different power sources for Lionel Trains?
Answer: The different power sources for Lionel Trains include a transformer (sometimes variable) and battery.  Transformers require the proper input voltage and frequency to assure they operate efficiently and without risk of damage.
To purchase voltage/frequency converters for Lionel trains, click here:  Converters for Lionel Trains
3. Do Lionel Trains require regular maintenance?
Answer: Yes, Lionel Trains require regular cleaning and maintenance to ensure they are operating properly.  It is important to regularly clean the tracks and check connections for integrity.
4. What are the benefits of operating Lionel Trains?
Answer: The benefits of operating Lionel Trains include entertainment, education, creativity, and relaxation.  They can be a source of entertaining competition!